<
THE MOST POTENT DIESEL PRODUCT WE'VE EVER DEVELOPED.
This formula is your single-bottle solution to help your diesel vehicle restore lost power/performance, unclog blocked DPF, turn off check engine light, and clear P242F and similar OBD codes.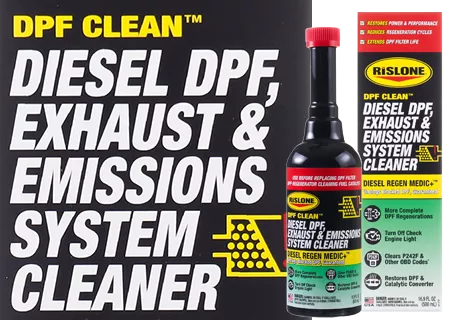 >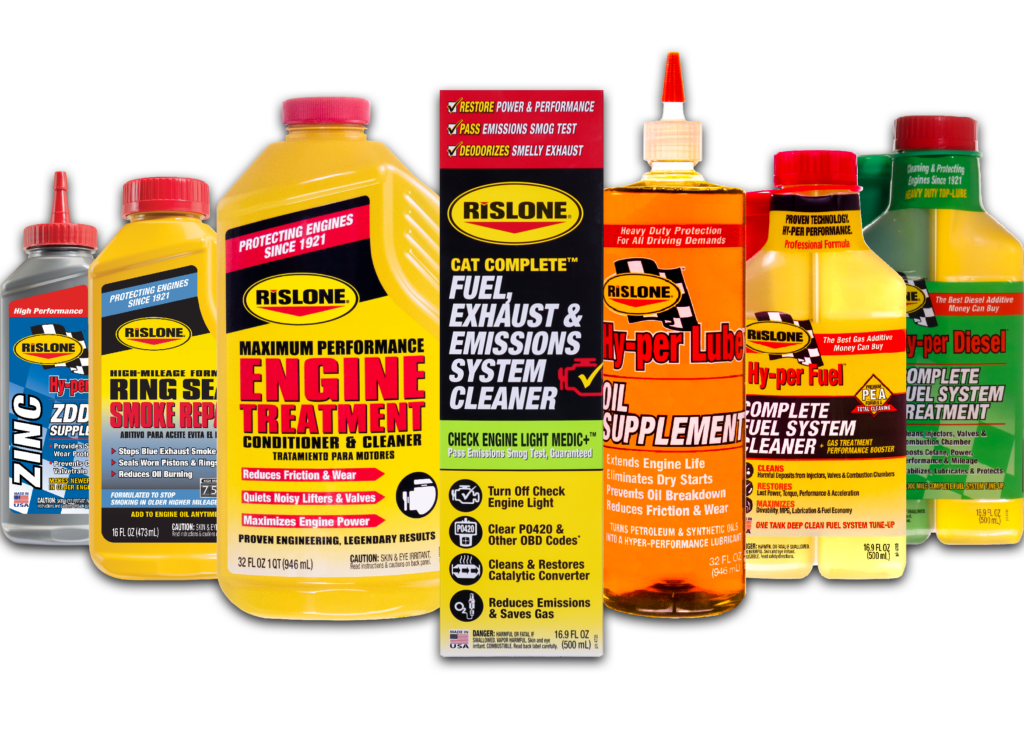 There's a lot riding on your vehicle. As one of the most expensive purchases you will make, your car, truck, van or SUV needs to be taken care of to guarantee durability, performance, value and safety. One important and often overlooked way to improve your engine, fuel system, and oil is to use Rislone performance chemicals.
Our scientifically advanced automotive products are formulated to take care of the unique and specific performance requirements of various systems in your vehicle with our class-leading chemicals.
ONE OF THE ORIGINAL AUTOMOTIVE CHEMICAL ADDITIVES
For over 100 years, Rislone performance additives have helped daily drivers, off-roaders, weekend warriors, and even race teams improve, protect and restore their vehicles. No matter the conditions, the trip or the job, Rislone makes your automotive life better.
Customer Reviews
<
"More products than I thought! I'm going to try some of them."

Anthony D. – Nashville, TN
"I had a small leak in my transmission and very rough shifts with my 2010 Fusion. One bottle of this at the recommendation of the guy at the auto parts store and both problems are 100% gone. Worth every penny! I did not want to be dealing with a transmission repair bill."

S. Lechter – Jensen Beach, FL
"I have a 2018 F-150 with the 3.5 liter twin turbo Ecoboost. I have the engine tuned to produce around 465 horse power. The tune requires the use of 93 octane gas. I always put a bottle of this in when I put gas in the truck. I can tell a considerable difference in power and performance when I use this product. I highly recommend it to anyone else who is running a turbo engine, or anyone requiring 93+ octane in their vehicle. Well done Rislone."
– B. Schoonover 
>
CHECK ENGINE LIGHT ON?
WE GOT YOU COVERED
Dealing with a stuck check engine light (CEL) or worried about passing an emissions test? We can help with the most powerful fuel, exhaust and emissions system product we've ever developed. Click here to learn more.

EXPECT MORE FROM YOUR ADDITIVES
We've been at this a long time.
Chances are, we have perfect product to meet all your goals, whether you're looking to maintain, boost or extend your car's performance.
We've been in the business of engineering legendary performance chemicals for the automotive aftermarket since 1921, so we know a thing or two about longevity.
A Century of Experience
Additives are a precise science. Not all are created equal. Our engineering team has been creating automotive chemicals, additives, treatments and cleaners for over a century – for consumers, auto clubs and professional race teams alike. We know that the key to giving you performance, efficiency and value is fully understanding the chemistry behind what we do. We also have an in-depth knowledge of what goes on in your engine every time you fire it up, even for the most modern engines. Turbocharging, supercharging, diesel, direct injection – you name it, we've worked with it.
In our experience, there are many factors that stress your engine and other systems during operation:
Stress and friction due to mechanical movement
Heat that is created in your engine, especially in turbocharged or supercharged applications
Internal pressures due to combustion (gas and diesel)
Vibration inherent to your engine and transmission, as well as from the road
Put all of these factors together and it's easy to see that your engine and transmission are put to the test every time you drive. Starting, stopping, accelerating and towing all tax your engine, transmission and fuel system. Multiply this by the number of years your vehicle will be in service plus harsh and varying weather conditions, and you'll start to understand just how important proper engine treatment is.
Proven Protection and Performance
The only way to ensure your engine is ready to run at optimal performance is to use products that are formulated to respond accordingly. Our entire reputation is about perfecting our engine, fuel and transmission treatments and additives. As vehicles have become more and more complex, with added technologies and performance demands, we have kept up the pace of our research.
Expect More
As a result, today we can offer some of the most scientifically advanced and high-performance engine and fuel treatment products on the market. We're proud of what we can do for the performance of your engine and enjoy hearing back from customers all around the world who see real performance, efficiency and reliability gains every single day.
Rislone. It's time to expect more from your additives.